Irish seaweed bodycare products
Algotherapy is the use of seaweed or seaweed extracts in health or beauty treatments. Seaweed baths were a common feature of seaside resorts in several southern and western locations at the end of the 19th century and the beginning of the 20th. The remains of some of these treatment centres are to be found at Victorian seaside resorts such as Kilkee, Co. Clare and Salthill, Co. Galway. The practice survives in some resort hotels in Co. Clare and in Co. Cork, but the only dedicated, fully-operational seaweed bath centre with the original fixtures and fittings is in Killala Bay at Enniscrone, Co. Sligo. This centre does most of its business during the summer months, offering seaweed baths in seawater using steamed serrated wrack - Fucus serratus - freshly collected from the shore nearby. It has a considerable number of regular customers that firmly believe in regular seaweed baths as a palliative for arthritis, rheumatism and other aches and pains. There is little doubt that there is a restorative effect but the precise nature of the active agent or agents is unknown. Seaweed Baths are becoming increasingly popular in Ireland.
That seaweed and seaweed extracts are good for the skin is beyond dispute according to cosmeticians and beauticians. Again, one can only assume that alginates, carrageenans and agars, found in large quantities in many seaweeds, have a beneficial effect in combination with warm seawater; however, it is probable that there are other constituents of seaweeds that have restorative powers. An Irish company is producing a seaweed powder (made mainly from Ascophyllum nodosum) for the cosmetic and algotherapy market, and another is producing a number of dedicated bodycare products containing seaweed extracts.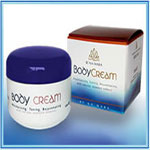 It seems likely that the market for algotherapy will expand and that this could be a very attractive area for niche companies to exploit. In France, the seaweed equivalent of "le health-farm weekend" is available where you can go to have your skin cleansed of the grime and grit of 20th-century living. The health-conscious are prepared to pay dearly for these courses of "algotherapy" or "thalassotherapy" and the attendant pampering of the mind and body. Style and location is essential in these operations: the surroundings must be well-designed and the staff exceptionally well trained. The customers expect quality and are prepared to pay dearly for it.
A number of compounds extracted from seaweeds are thought to be of value in various cosmetic applications and some are now becoming commercially important.